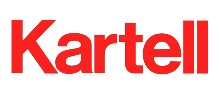 A global and trend-setting force in furniture design, Kartell produces lamps, chairs, stools, tables, clocks and storage units that become contemporary icons. Kartell furniture is characterised by playful irony, unusual and eccentric shapes, interesting colour combinations and an affinity for polycarbonate.

Kartell is based in the world's fashion capital, Milan. This is the reason why Kartell is so capable of starting new trends and revitalising old ones. Working with a broad spectrum of revolutionary designers, Kartell has its finger firmly on the pulse of what people want from their furniture.

Here at Vale Furnishers, we have a dedicated area of Kartell lighting, stools, chairs, shelving and storage units on display in our Farnham showroom. Marvel at some of the company's most famous pieces, such as 1970s design icon the Kartell Componibili storage units, and the stunning and popular Kartell Ghost Chair.