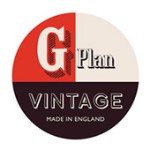 The vibrant and nostalgic G Plan Vintage range comes courtesy of one of the largest upholstery manufacturers in the UK, G Plan. Breathing new life into some of G Plan's sofas and chairs from the 1950s and 60s, the G Plan Vintage collection is turning classics of yesterday into icons of tomorrow.

Vale Furnishers is one of the few furniture retailers in the UK to offer G Plan Vintage sofas for sale. As a leading G Plan Vintage stockist, we have created a dedicated display area in our Ash Vale showroom in order to showcase this eminent brand.

Our range includes the G Plan Vintage 62, a 21st century revitalisation of what was called -The World's Most Comfortable Chair- in the 60s, famously featuring in James Bond movie You Only Live Twice. The 62 is nostalgic, functional, great-looking and still lives up to its former name five decades on. Many of the chairs and sofas in the range also come with ornate and colourful G Plan Vintage cushions.